Still on the same day at about 2 p.m. we went to Monument Valley. We advanced briskly, but we noticed that the clouds at the horizon in front of us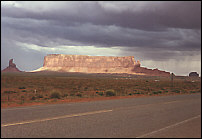 became darker and darker. Just before reaching
Kayenta
, the entrance to the valley, an
enormous cloud burst
with hail came down on the area and forced us to stop. We didn´t feel very fine about it. The motorhome was swaying enormously, although it stood in the direction of the wind, and the roads were flooded half a meter. But everything went well and so we got to Monument Valley at about 4 p.m., or rather 5 p.m. because of
one hour delay of time
when crossing borders to the state of Utah.
First we went to the visitor center in order to get a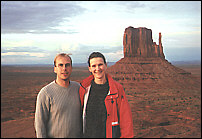 camping site and we got a beautiful site at the edge of the plateau with a view down into the valley. We actually wanted to go on a jeep-tour throughout the valley on the same day, but we did not trust the weather, despite the weather forecast of the Indians. Thus we booked the tour into the valley for the next morning. After dinner we watched the fantastic sunset from the visitor platform. It had cooled off pretty much and the remaining thunderstorm atmosphere with the gradually shining sun and the remaining clouds resulted in exceptionally interesting pictures. And we could hardly believe it, the clouds dispersed completely step by step. At 8:30 p.m. the sun set down and we went back to our motorhome since the campground did not have to offer much except the beautiful view.
The Sunday began, as usual, with a sunrise (6:12 a.m.). We had never seen such a sunrise before. The view of the valley was wonderful and so the breakfast was especially delicious.
At 8 o´clock we met our tour guide and since there was apparently no high demand for jeep-tours, we had our own jeep through the valley. The advantage was that we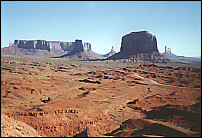 did not get dusty as on one of the open jeeps for groups. And so the $30 per person did not seem that expensive anymore and the 2½ hours tour is also worth it. Besides it is the best way to explore the valley, even if you can drive on 10 miles of the 17 miles route yourself. But the unpaved road is not to recommend for motorhomes like ours.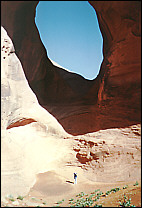 Very amusing was the singing of the two Indian tour guides underneath an enormous rock overhang, called "The Hogan", with fantastic acoustics. And so we were also willing to believe the story of the tour guide´s boss, who pockets all the money, and to give him a small tip. At 11 a.m. we left the Indian reservation towards Mesa Verde. On the way we actually wanted to stop at the Four Courners Monument in order to be in four federal states of America at the same time by hand or foot, but we had enough of the high admission fees of the Navajos.