After we had left the Grand Canyon NP, we went on to
Page
where we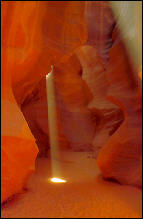 made again a short stop for getting gas and grocery shopping. The only supermarket in town was Safeway where you can only get
discounts
as a member. We then remembered the tip in our travel guide to get a
member card
by giving a fantasy address. So we did that. Too bad that we had not remembered that already before. Page is directly situated at the
Lake Powell
and the
Glen Canyon Dam
. If you have more time than we had, you should stay here at least for one day and go swimming in the Lake Powell. We did not have so much time and thus omitted the Lake Powell and drove to the
Antelope Canyon
behind Page right away.
It consists of the Lower and the Upper Antelope Canyon.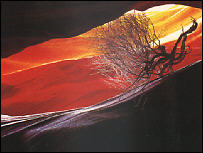 Both canyons are well-known by the amazing shapes and colors and the petrified sanddunes as results from washing. The Antelope Canyon belongs to the so-called slot canyons which are often only a narrow and short ravine cleft in the rock. The best visiting hours are from 11 until 13 o´clock when the sun is perpendicular and the sun beams fall through the canyon cleft and make the rock gleam. Unfortunately we were not so lucky. It was hazy and now and then the sun emerged from behind the veil clouds only briefly. Thus the plays of light and shadow were not as expected, but nevertheless it was very impressing. One can visit both the Lower and the Upper Antelope Canyon.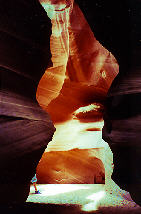 However, each of them costs extra and quite a lot. We only visited the Upper Antelope Canyon. You are not allowed to drive to the entrance of the canyon yourself since the canyon is situated in the reservation area of the Navajo Indians.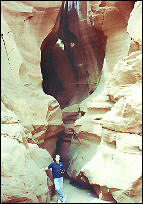 Generally one must pay first $5 for entering the reservation because the National Parks Pass does not apply here. Add to this $12.50 for the Upper and $10 for the Lower Antelope Canyon for the transfer to the entrance of the canyon and the visit. The ride to the canyon entrance by jeep lasts approx. 15 minutes. For visiting the canyon you have got one hour time at the Upper Antelope Canyon (at the Lower Antelope Canyon there is no time limit). Although the Upper Canyon is only 150 m long, you need one hour easily because you can´t get enough of all the shapes and colors. Since it was quite dark in the canyon, despite the beam of light, our photos did unfortunately not come out perfectly.