The ride to Mesa Verde NP, the
cultural-historically most important national park
of the USA, was very monotonous and strenuous. Nature didnīt have to offer much, except for
a lot of crosswind
which we had to struggle with. At about 2 p.m. we finally arrived at Mesa Verde. First, we went to the
Morefield Campground ($20)
, the almost only campground in the area. However, with its 400 sites it rarely fills. It has got simple sites as well as sites with hook-ups which are available on a first-come, first-served basis. Then we went on to the
Far View Visitor Center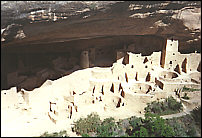 that is situated
11 miles away from the campground
. We were astonished how high Mesa Verde actually lies. The
differences in altitude
that we had to overcome with the RV were
quite enormous
. We had a
fantastic view of the Rocky Mountains
from above. After we had arrived at the visitor center, we first got some information about Mesa Verde and the
cliff dwellings
.
The two largest dwellings, Cliff Palace and Balcony House,
can only be visited on a guided tour. The tickets for the guided tours ($2 per person and dwelling) are available at the visitor center, but only for one of the two dwellings on the same day. Most of the dwellings are situated on two separate routes. At first we drove along the Cliff Palace Loop or East Loop respectively. We first stopped at the Cliff Palace, the largest dwelling of Mesa Verde.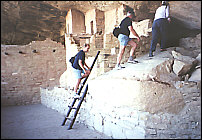 From a visitor platform we had quite a good view of it. At 5 p.m. our one-hour guided tour to the Balcony House started. It was recommended as the better tour. We had to climb up and down rather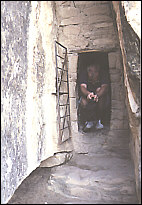 high and almost vertically put up ladders and creep through a small tunnel passage on all fours. It was a lot of fun and we can only recommend it to everybody who does not have agoraphobia or a phobia of heights. Then we still payed a brief visit to the Spruce Tree House which you can visit individually. Rangers are there to answer your questions. Before we went back to the campground, we drove along the Mesa Loop Trail.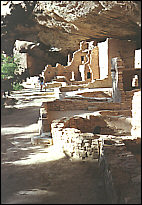 But then we had seen enough for the day and we were terribly hungry. Since the way from the campground to the sights is quite long, it was not worthwhile to drive to the dwellings a second time. Besides, we had actually seen everything. This night we were glad to have our sleeping-bags with us because the temperatures dropped down to 4°C.