The Aeolian Islands are an
island archipelago
consisting of
seven small islands
northeast of Sicily. It would not have made sense to go on that tour by our rental car because we would have had to leave the car at the harbor of Milazzo anyway. Thus we had decided to book this tour with a
local travel agency
in Taormina. It was no problem.
We left Taormina at 6:30 a.m. on a coach. Already at 9 oīclock the ferry to the islands left in Milazzo. First we headed for Lipari,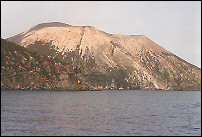 the largest and main island of the archipelagio. The crossing lastet approx. 2 hours. Having arrived on Lipari, we went on an one-hour ride across the island in a coach. It was not very outstanding and impressive. We had three stops for taking pictures. In our opinion Lipari has to offer nothing special. There you find pumice quaries and view points with views of the coast of Lipari and the neighboring islands, but thatīs it. We think itīs not really worth visiting the island, maybe because we were driven around in a bus. We simply did not like that kind of mass processing. However, we had chosen that way of visiting the island.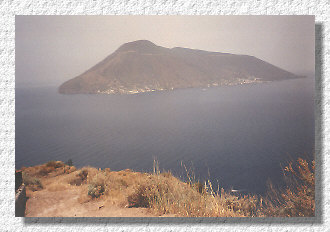 By
hydrofoil
- a lot faster than the ferry, but nearly three times more expensive - we drove afterwards to the
neighboring island Vulcano
where the
volcanic origin
is still obvious. On the island we had three hours at free disposal.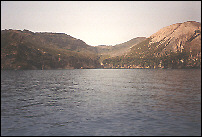 Actually
we wanted to walk up the
Gran Cratere
, a
still active volcano
, but temperatures of more than 30°C and a very high humidity kept us from doing that because we were exactly at midday on the island and the
ascent
would have been
without any shade
. Nevertheless, we did not want to expose ourselves to this torture. The
ascent and descent
would have taken us approx.
1,5 to 2 hours
. After we had bought some food in a supermarket, we went to the near
Porto Ponente ("West Harbor")
. There is a
beautiful bay with fine lava sand
- perfect for
a lunch and swimming break
. After we had refreshed and strengthened, we visited the
beach of Porto di Levante ("East Harbor")
. Here itīs actually supposed to
bubble in some places of the sea
because
funnels produce gases and steam
and heat up the surrounding water that way. We could however not observe such activities in the sea. Somewhat off the beach there is
Aqua di Bagno
, a
warm natural mud pool
where some visitors take a mud bath (entrance fee 1 €). The mud is supposed to have great
healing properties
. We did not really want to believe that at the sight of the pool. Directly
beside the mud pool it steams from the ground
, the
rock appears in different colors
, due to the deposits, and
everywhere you can smell sulfur
. At 4:20 p.m. the ferry left for milazzo. Although we had walked not much, we were nevertheless quite exhausted.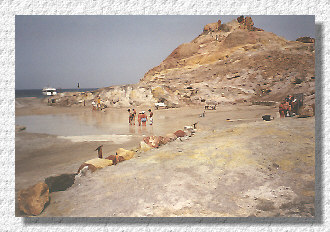 Our summary:
The islands are
quite overcrowded
by now. They
hardly offer any individual experience
. If you havenīt been there - donīt worry, you did not miss much. We had also been tempted to visit
Stromboli
- the
furthest island
of the archipelago from Sicily where
volcanic activity
can be observed
nearly once per hour
with small
volcanic eruptions
, but that tour is
quite expensive
.