Taormina was our
vacation place
from where we went on our
day trips
. Although the town is no doubt
very touristic
, it has nevertheless, due to the
old buildings, the narrow lanes and hidden corners
, not lost its
special charm
.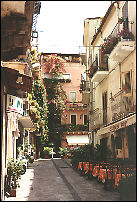 Our small
hotel (Villa Greta)
was fantastically situated
high above
with a wonderful
view of the bay of Taormina and the majestic Etna
. The town virtually lay at your feet.
At night
the view turned into a
sparkling ocean of lights
and the moon was reflected in the water of the bay. It is amazing what building work was partly accomplished in order to build settlements on Sicily. Of course, that view had also its price. In order to get to the hotel, we always had to
walk strongly uphill
. Fortunately, there were
stairs
which
shortened the zigzags of the street
. It was not less exhausting though. This had one advantage: it was a good fitness training and we got in real good shape.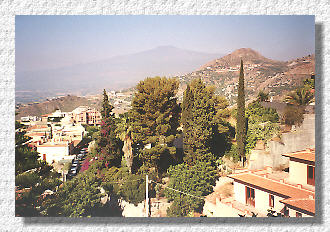 The
streets
of Taormina are all
very narrow
. There are hardly any sidewalks as well, that means everything and everyone uses the street.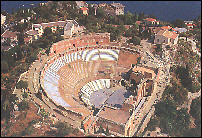 The
Corso Umberto
is the
main street
and pedestrian precinct of Taormina. It is enclosed by
two town gates
(Porta Messina at the eastern and Porta Catania at the western end). Twice the Corso widens, at the
Piazza IX Aprile
and at the
Piazza Duomo
, the two
main squares of the town
. The
most famous building
of Taormina is the
Greek-Roman theater (Teatro Greco)
.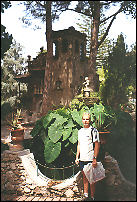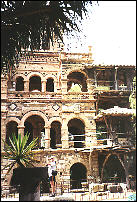 We did not visit the theater however. 4,50 € for a few excavations, probably again without any explanations, were simply not worth it. In the summer months
cultural events and performances
take place regurlarly in the theater. The beautiful
town park
is an
oasis of peace
. The
ascent up to the Castello
on the summit of the
Monte Tauro
, the
home mountain
of Taormina, is also
worthwhile
- not because of the half-decayed Castello, rather because of the
fantastic view
, in particular
at night
.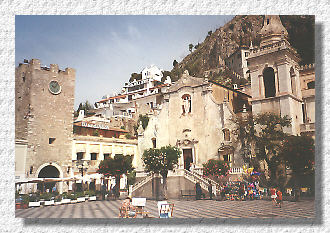 For getting from the old part of town down to the coast there are
three ways
: by foot, bus or cable railway. In the beginning we walked, but after a few days we took the
cable railway more often
- for 1,60 € (one-way) or 2,70 € respectively it´s not cheap but the
fastest and most comfortable way
to get into town.