February 22nd, 2004
Unfortunately, today we were not so lucky with the weather. When we got up it was very windy and raining.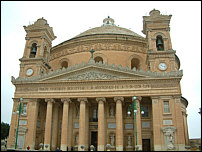 Nevertheless we set out to our planned
walking tour to Popeye Village
and the bays in the west of the island. But before we went westwards, we took a bus to
Mosta
(0,15 Lm) in order to visit the
Church of St. Marien
, the
third largest dome church in Europe
. The
dome with a diameter of 53 m
is simply gigantic and dominates the building both from the inside and outside. When we were there, they were
just having a service
, so that we stayed respectfully in the background at the door and we avoided to take pictures inside.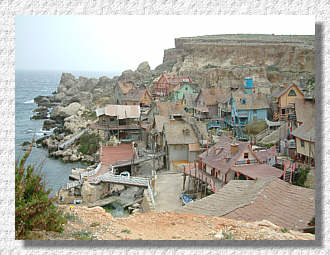 After this stop we got on the bus No. 45 and let us take to Mellieha Bay (0,18 Lm). At the bay there is one of only a few sand beaches on the island. In the summer it certainly is completely crowded. Since the beach is situated directly at the road, it is not a very idyllic place. From the Mellieha Bay we walked the 2 km to the well-known Popeye Village in the Anchor Bay. Here the village Sweethaven was built in 1980 for the filming of Popeye. For a regular entrance fee of 3,30 Lm per person (due to the bad weather we would have had to pay only 2,50 Lm) you can stroll through the village and watch a short film about the making of Popeye.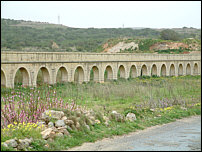 Into most of the houses you cannot get inside, but in some there are moving figures we were told. We think that´s nice for children. We were content with having a look at the village from the opposite side of the bay and taking pictures. Then we walked on - uphill and downhill - passing the remainings of a former aqueduct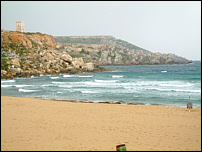 to the Golden Bay - fighting against strong winds and rain showers. When we finally arrived at the bay, we were pretty soaked, but suddenly the sun broke through the clouds. There was not much to see in the bay. The sand is fine and golden, but the surrounding is not very nice. At present a Raddisson luxury hotel is being built on the cliffs.