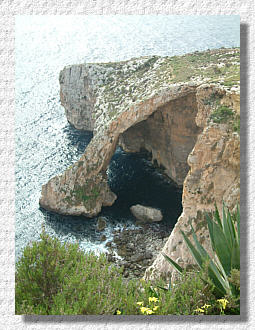 February 21st, 2004
In order to get to the
Blue Grotto
and the sights in the south it takes a longer bus ride. First we went from
Bugibba to Valetta
(0,18 Lm) and from there by
bus No. 138
southwards. The Blue Grotto got its name
from the counterpart on Capri
where the sea offers in the sunshine a pretty play of colours in different shades of blue.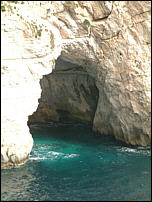 By a fisher boat you get through a more than 20 m high arch into the 50 m long grotto. From the bay of Wied-iz-Zurrieq the boats leave (not before 9.30 a.m.) to the grotto and to a few more caves in the cliffs.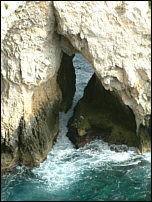 The boat tour takes half an hour and costs 2,50 Lm for adults and 1,25 Lm for children (3-10 years). When the sea is rough the fisher boats however stay
in the harbour. That happened to us. The wind was too strong for a boat trip. So we just walked along the cliffs to get one or the other risky view of the caves and arches below. That was also very nice.
From the cliffs we walked the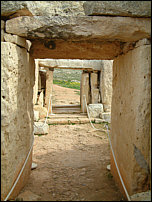 two kilometers to the prehistoric temple complexes Hagar Qim and Mnajdra, which belong to the most impressive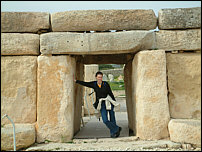 sights of Malta. Mnajdra is about 500 m away from Hagar Qim toward the coast. In reality the sites are not as impressive and monumental as at the pictures that we had seen before. If you like to visit both sites you have to pay for each 1 Lm per person. We think the price is quite high for that what you get to see. In the temples you can only walk in the middle aisle.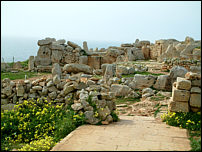 The side aisles are closed to visitors with ropes. But you can even understand that if you know that Mnajdra was closed for visitors in 1994 because it had been in danger of collapsing and that it was reopened quite recently. If you are someone who is not very interested in history and culture, it is in our opinion enough to have a look at the sites just from outside. Despite the high fences, taking pictures and video recordings with a good lens and zoom is no problem.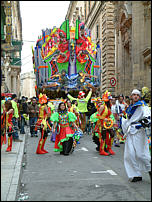 If you don´t like to walk so much, you can get the bus No. 38 from Hagar Qim to Valetta (0,40 Lm). For walkers the 2 km to Qrendi are no problem. At the church the bus No. 35 to Valetta stops (0,15 Lm). Being back in Valetta, there was a lot of action - the city was preparing for the carnival procession. We liked watching the colourful hustle and bustle for a while before we went back to Bugibba.