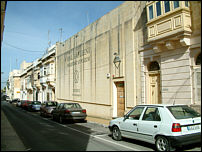 February 24th, 2004
We had not planned anything special today. Until noon we went
shopping in Sliema and Valetta.
For the afternoon we had
tickets reserved for a visit of the Hypogeum
. The
tour lasts about 40 minutes
and begins with a
short introduction film
in freely selectable language by headphones. The tour itself is in English.
The Hypogeum is an underground burial place and a temple and ritual place of the neolithic culture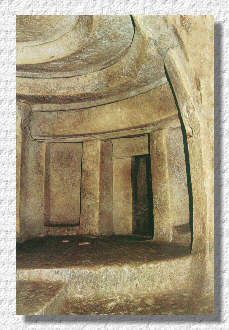 at the same time. It reaches down to three floors underneath the ground. In 1902 it was conincidentally discovered during the construction of a cistern for a town house. In the 80s the Hypogeum had suffered large damages due to the masses of visitors. So it was closed in 1993 and completely reconstructed. The reopening was in 2000 with the restriction that now only approx. 70 visitors are allowed per day. Our group consisted of 10 people and since the lights were time-controlled you always had to stay with the group. The tour is very exciting for everyone who´s historically interested. We had a few problems with understanding the Maltese English of our guide.
All in all it was a wonderful short holiday, far away from the cold weather in Germany, because here you could already feel and see the beginning of the spring with temperatures up to 21°C. Malta is concerning its culture and history worth seeing and nature has got some special features to offer which we enjoyed most. One week was even not enough for us in order to see all interesting places, but that´s a good reason to come back.
Well then, goodbye Malta!