Today we still wanted to watch the
sunrise over the Bryce Canyon
, but we almost overslept. We just sprang out of the beds and into our clothes and drove to the
Sunrise Point
. We had breakfast then on the parking lot there. At about 8 o´clock we started towards
Zion NP
. On the way we made a
small detour over Panguitch
because we urgently needed food and cheap gas. However, the detour was not worth it because the prices in Panguitch were not favorable.
At 10 o´clock we arrived at the East entrance of the Zion NP.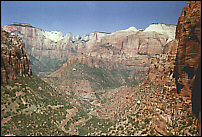 There is a tunnel which vehicles 2.40 m wide and 3.40 m tall can only pass with an escort for a fee of $10. The oncoming traffic had to be stopped, so that we could drive with the RV in the middle of the very narrow tunnel. Before that we still made a stop and hiked on the Canyon Overlook Trail. From there we had a stunning view of the park. After the tunnel we drove on numerous steep serpentines down into the valley. First we wanted to get a camping site of course, but both campgrounds in the park (South + Watchman Campground) were full.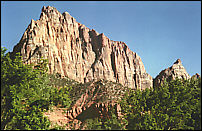 We had not considered that it was Memorial Day weekend and that it would be so crowded. At the North Campground we got a list of the nearest campgrounds. The next (Zion Canyon Campground) was already in Springdale, just before the West entrance of the park. It was a stroke of luck in adversity, we still got a site directly at the Virgin River. We had to pay $22, but we got a site with hook-up.
We parked our RV and went by the park shuttle to the visitor center
and from there to the Zion Lodge. Here we had finally something to eat: Fast Food and for the first time American ice cream. With a full stomach we walked then to the Emerald Pools, small water holes which are not really worth to see. The small water falls, which ran down from pool to pool, were the best. It was incredible how many people there were in the park. We found it quite a nuisance. It was not relaxing.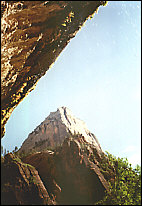 Then we drove by shuttle to the Temple of Sinawawa, the last stop on the Scenic Drive. We walked only a short way on the Riverside Walk. Through the Narrows we did not want to walk anyway because the water of the Virgin River was quite cold and at a high level. By shuttle we went back again with stops at the Big Bend, the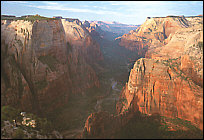 Weeping Rock and at the Court of the Patriarchs. We still walked to the Weeping Rock, but for further walks we did not have enough power. An extensive hike to the Observation Point or to the Angels Landing would have taken 5 or 4 hours and it was already 5 p.m. Thus we were only looking forward to the shower because it had been very hot with 40°C during the day.