Behind
Twentynine Palms
we should become aquainted with the wilderness of American highways and roads for the first time. At 10 o´clock we left Joshua Tree and went past a sign saying
"Next Service 100 Miles"
. And such it was - a dead straight road and on the right as well as on the left desert. But we drove quite well with 65 mph (miles per hour). With the speed control and the air conditioning switched on, even the wilderness is bearable, but the
surprise
should still come. We had refueled the RV already before since we knew from this abandoned area.
Having arrived at the Parker Dam (deepest dam of the world), our first stop, the heat and sultriness almost killed us when we stepped out of the RV. Our thermometer showed 38°C and we had not expected that. On we went to Lake Havasu City, where we visited the London Bridge (a duplicate of the London Bridge of the capital of England), and finally to our destination of the day, the Route 66. On the way we saw some bizarre things. First a pick-up drove on rail tracks, which is not necessarily normal for us Europeans, and a tree decked with garbage does definitely not correspond to our conceptions of recycling.
It was well-meant by Anke, she had selected a literally "scenically more attractive passage" on the Route 66 which crossed our way still before the actual well-known section.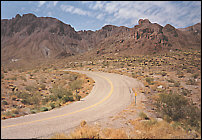 And so we drove in serpentines and on narrow roads with the 7,20 m long motorhome and that on the second day after the takeover. Anyway, it was pretty cool because we passed through a small town where time had apparently stopped. That compensated for the adventurous strains.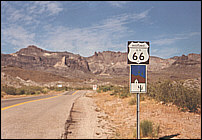 In the evening we stilll made it on the Interstate to Seligman where we stayed overnight on a private campground of the KOA ($20). We still got some gas and then we realized something. Not only that the prices for gas vary very strongly in the USA, the gas consumption of the motorhome also rose extremely (30 liter/100 km) on account of the speed control and the air conditioning. Thus we decided to do without these additions in the future as well as possible.
The campground was simple and not quite inexpensive.

Additionally it was situated at a busy railroad line on which trains, that are several hundred meters long, drove past. Here our ear plugs payed off for the first time. Nevertheless the night was noisy.