At about 7 o´clock we got up. Since we still had to get gas, it was 8:30 a.m. before we left the city of gamble. On our way out of the city we made a stop at the
office of the AAA
in order to get the
CampBook of California
, because we did not know yet where we would spend the night. As a member of the AAA or the General German Automobile Association you get the
CampBook for free when you show the "Show Your Card and Save" card
. As soon as we were out of Las Vegas and had left the hustle and bustle of the large city behind us, a barren, secluded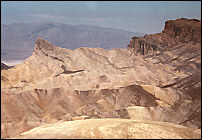 and monotonous landscape surrounded us which did not change substantially on the way to Death Valley. At about 11 o´clock we had already arrived at the Death Valley NP.
Most lessors
of motorhomes
do not allow to drive through the Death Valley from May until September
because of the heat and the endless way out of the valley over the #190. El Monte is somewhat more generous because in May you can still drive through the Death Valley without loss of insurance protection.
On our arrival in the valley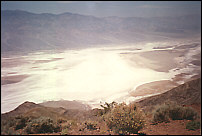 we were surprised about the descent temperatures there. The thermometer did not rose higher then 44°C - a "low" just past through. Our first point of interest in the park was Dante´s View, a fantastic viewpoint where you have a stunning view over the valley. You can get there on a 26 miles course (round-trip).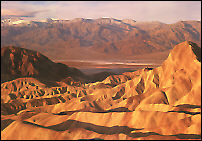 The road is however very narrow and has an ascent of 14% on the last ¼ mile. That demands good driving skills. Vehicles with a length of more than 7.70 meters are not permitted on the last part. Our next stop was at the Zabriskie Point, one of the most photographed spots in the valley. On the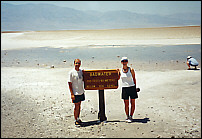 Badwater Road we drove along the edge of the former dried up salt lake to Badwater, with 86 meters below sea level the deepest spot of the western hemisphere. On the way back from Badwater we drove along the Artists Drive, which is very fotogenic because of its multi-colored rocks. After short stops at the visitor center and the Stovepipe Wells for taking pictures we left the valley.
We were glad that we did not stay overnight in the Death Valley as planned.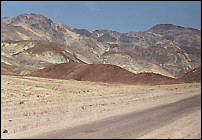 The area is not very inviting for camping. You don´t know where to hide from the sun. The way out of the valley was endless. Our motorhome was pushed to the limit because it had to master steep ascents and many curves. We hoped that our RV would survive the strains. From Lone Pine we drove on the #395 north, always along the Sierra Nevada, which offered an impressive mountainous scenery. We had hoped to get into cooler zones beyond Death Valley but it did not happen. It even was 1°C hotter than in Death Valley. The sun burned down without mercy. Just behind Bishop we stopped at the first campground. It was not the very best but okay. We had to pay $14 for a site without hoop-up but quietly situated. The showers cost $1 extra. It had made no sense to drive any further in order to find a cheaper campground because Ronny was so bushed.