At 7 o´clock we left the campground in Arches.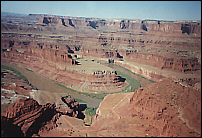 The next destination should not be the
Capitol Reef NP
right away. We had decided on an
excursion to the Dead Horse Point State Park
, a small but fine State Park in the midst of the
Canyonland
. The park itself was rarely frequented and everything was very neat. The view of the
meander of the Colorado
at the overlook compensated for the detour of a 3-4 hours drive.
Then we went on to the actual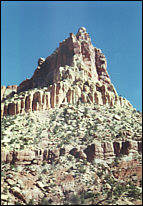 destination of the day, the Capitol Reef NP. On the way there weren´t any particular sights so that we progressed quickly. Having arrived in the park, we first stopped at some remarkable points of interest, for example at a waterfall and the Capitol Dome. On a 2-miles round-trip we hiked to the Hickman Bridge and here we noticed that the sun burned very strongly today. We went briefly to the visitor center and then looked for a campground. We wanted to camp on the Thousand Lakes RV Park in Torrey since we had already read much about it in the internet. It truly is an excellent campground. For $15 (including AAA-card discoun) we got a

shady site with hook-up and a beautiful view. We just ordered our menu for $10 for the Western Cookout which takes place every evening and turns out to be very opulent. Besides, the owner also bakes delicious muffins which we ordered for breakfast. All in all we found this campground, concerning service and prices, to be one of the best of its category on our trip.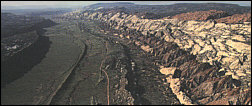 After everything was regulated, we went back to the park once again in order to drive along the
Scenic Drive
and to go on a small
hike into the Grand Wash
.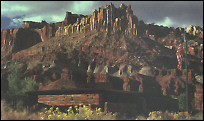 But at the end we did unfortunately not get to hike because the
best trails were only accesible on gravel roads
and we could not pass them with our motorhome. Thus we only made short stops on the way and we were already looking forward to
dinner in the sunset
. And it was delicious. Beverages as much as you desired, salad, a choice of meat with Dutch baked potatoes, cowboy beans and scones with honey butter as dessert. Thus we liked the campground and everything around it more than the national park itself. Since the park is not
really suitable for motorhomes
, the activities can only be managed with more time because of the long ways. And time in the Southwest ist scarce.