Our
first tour
led us to
Tindari in the north of Sicily
. Before we could leave, we had some trouble with taking over the rental car. We had booked a taking over at the hotel (20 €), Europcar however appeared half an hour too late and then the guy was so slow that we almost fell asleep. Besides it was a hard fight to convince the man from Europcar that we will bring back the car to the rental station ourselves. With panic-make and lies he wanted us to pay another 20 € for taking the car back - not with us!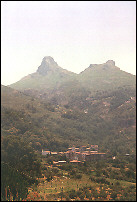 For the way to Tindari we chose the somewhat more time-consuming one through Francavilla and Novara. That way we wanted to discover a part of the original Sicily. This route is scenically very delightful and you meet hardly any other vehicles.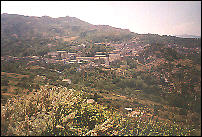 Sometimes you pass completely deserted places - somewhat spooky but with an idyllic quiet and seclusion, far away from the bustle of tourist centers. It took us 2½ hours to drive the 100 km, numerous photo and video stops included of course. Contrary to our expectations the condition of the road was perfect.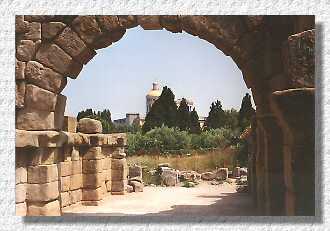 Having arrived in Tindari, we first visited the
excavation places of the ancient Tyndaris
(2 € admission)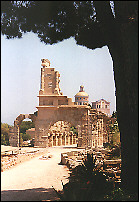 which is situated
high above the sea on a massive rock
. Here it was nearly deserted. Unfortunately, there were no explanations at the excavations. On
one part of the former Tyndaris
the
Sanctuary of the Black Madonna
rises today - a modern sanctuary and a
popular place of pilgrimage of the Sicilians
. The Madonna, that is involved in a legend, can be visited there. The sanctuary forms a
beautiful contrast to the excavation places
. The church does not seem to suffer from shortage of money.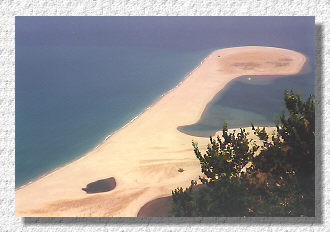 From Tindari we had a
fantastic view
over the sea and the
lagoons of Oliveri
which spread underneath.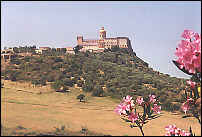 This
wonderful swimming place
was the culmination of the day for Ronny. We drove the 5 km to Oliveri, parked the car and went by foot for approx. ˝ hour until we arrived at the
sand tonge
with the wonderful
lagoon beaches
. The following
swimming pleasure
rewarded us for the arduous beach march.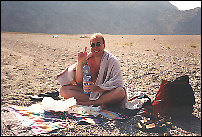 The water here is quite warm and we were nearly alone in the lagoon.
Watch out
for
sea urchins
! Although you can see excellent in the crystal-clear water, we recommend to wear bathing shoes. On the way back we took the faster way over the highway. These likewise 100 km took us only 1½ hours. That way cannot compete scenically with the one over the mountains.