Our longest trip took us into the east of the island, first to the Dikti Mountains. They surround the Lassithi Plateau which is situated at an height of 800 metres and thus create a climate unusual for the area. By irrigation, which in former times was done by windmills, one succeeded in running agriculture here on fruitful soil.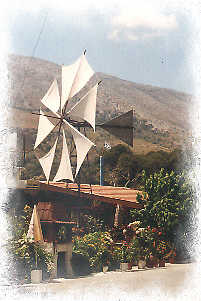 Wind Mill for Irrigation
Afterwards we drove to one of the most well-known places of Crete to Agios Nikolaos. This place is situated at the Mirabello Bay and became known by its Venetian Port and the curiosity of an inner-town lake which is connected to the open sea only by a bottleneck. Back we went by our rattly Vitara jeep which however never abandoned us.